Bio X4, a probiotic supplement, promises to reduce hunger pangs, boost metabolism, and enhance digestive health. According to the manufacturer, the supplement's probiotic content and two primary ingredients, caralluma fimbriata and EGCG, work in harmony to accelerate weight loss. However, the manufacturer fails to provide any scientific evidence to support these assertions.
After conducting thorough research, our team found limited scientific data to back up the claims made by Bio X4. While enhancing digestive health is an important aspect of weight loss supplements, the connection between Bio X4 and weight loss may be tenuous at best. We have assessed all aspects of this product and have compiled a comprehensive summary for you.
About the Brand
Bio X4 is manufactured by Nucific, a health and wellness company that researches, develops, and distributes various nutritional supplements. Apart from Bio X4, Nucific also offers other products, including probiotic supplements, slimming chocolates, krill oil, and energy boosters, among others.
Nucific prides itself on creating all-natural supplements that are free from preservatives, synthetic fillers, antibiotics, or food coloring. The company's products undergo independent third-party lab testing to ensure the potency and quality of their ingredients, including Bio X4. Furthermore, Nucific is recognized in California as an environmentally-friendly company that uses only renewable energy and recyclable materials.
Nucific maintains an active presence and open communication with customers and health enthusiasts by offering educational videos and nutritional information on their official website. It's worth mentioning that Nucific donates a portion of the proceeds from every purchase to Action Against Hunger, a charity organization. Dr. Amy Lee, a board-certified internal medicine specialist, sits on the Board of Directors and plays a significant role in the development of Nucific's products. She is also an active community member.
What is Bio X4?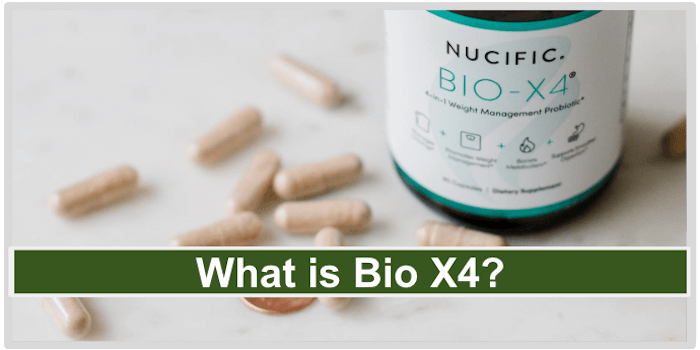 Bio X4 is a probiotic supplement that claims to help with weight loss. The manufacturer touts this 4-in-1 weight management probiotic as a solution to control your appetite, manage food cravings, boost metabolism, and improve digestion to enhance your overall well-being. To verify these claims, we delved into the ingredients used in this supplement.
For those interested in contacting customer service, Bio X4 provides various options, including email, a contact form, and live chat. Their headquarters is located at 30700 Russell Ranch Rd Westlake Village, CA 91362. You can reach them via email at [email protected] or by phone at 888-679-5520 during business hours, which are from Monday to Friday, 6 AM-5 PM PST, and on Saturdays and Sundays, 6 AM-4 PM PST. For more information, please visit https://nucific.com/contact/.
Bio X4 Vouchers & Discounts
As we receive countless enquiries about savings offers or vouchers every day, we have picked out the best offer for Bio X4 at the moment exclusively for our readers and listed them below. Please also keep in mind at all times that such offers are only available for a limited time and only work via the link below. This offer is only valid until 23. September 2023.
MEGA-DISCOUNT-ACTION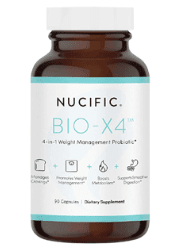 Boosts your gut health
Enhances your metabolism
Optimizes the digestive system
No side effects
Evaluation: ⭐⭐⭐⭐⭐
👉 CLICK HERE to secure the best offer! 👈
You can only get this offer exclusively from us and it is only valid until 23. September 2023
Bio X4 Benefits & Results
To achieve the best results with Bio X4, it is recommended that you use it consistently on a daily basis. Even if you miss a day, it is best to resume the recommended daily dosage rather than attempting to make up for the missed dose. The manufacturer advises that you can see optimal results after 60 days of consistent use, provided that you take the supplement daily, maintain a regular workout routine, and avoid consuming sugary foods.
In conclusion, Bio X4 may be a useful supplement for those seeking to improve their gut health and lose weight. By providing beneficial bacteria to the gastrointestinal tract and containing ingredients that boost metabolism and reduce hunger, Bio X4 has the potential to support overall well-being. However, it is important to use the product consistently and follow a healthy lifestyle to achieve the best results.
How to Take Bio X4
According to the product instructions, users should take one Bio X4 capsule with each meal, including breakfast, lunch, and dinner, for a total of three capsules per day. While it's possible to take up to two capsules per meal, it's important not to exceed six capsules in a day. These pills are designed to support digestive processes with fewer digestive issues and potentially even greater nutrient absorption. Daily supplementation may lead to significantly improved digestive health and faster weight loss, according to claims.
Can Bio X4 Provide Effective Support for Your Digestive Health and Weight Loss Goals?
Bio X4 is a probiotic supplement that is designed to promote gut health by providing beneficial bacteria to the gastrointestinal tract. This, in turn, may support overall health and assist in weight loss efforts. Research published in the Nutrients journal suggests that probiotics can help restore the balance of "good" bacteria in the body, leading to a healthier gut microbiome.
One of the key ingredients in Bio X4 is green tea, which is believed to boost metabolism and energy levels. Another ingredient, Caralluma Fimbriata, is thought to help suppress appetite. By increasing metabolism, providing a boost of energy, and reducing hunger, many Bio X4 reviews indicate that this product can be beneficial in improving overall well-being and supporting weight loss.
Bio X4 Ingredients
Bio X4 by Nucific uses a unique blend of four ingredients to potentially aid in better digestion, control food cravings, increase energy, and promote weight loss. These ingredients include:
Craving control blend: This blend includes 5-HTP, an amino acid that may help control food cravings and improve mood.
Probiotic blend: This blend contains two groups of bacteria, namely lactobacillus and bifidobacterium, which provide a total of 39 billion colony-forming units (CFUs) per three capsules. The lactobacillus blend comprises L. acidophilus, L. rhamnosus, and L. plantarum, while the bifidobacterium blend includes B. lactis and B. animalis.
Digestive enzyme blend: The blend consists of amylase, bromelain, and lipase, which may help with the digestion of carbohydrates, proteins, and fats, respectively.
Weight management blend: This blend contains caralluma fimbriata extract and EGCG from green tea, which may support weight management by reducing appetite and increasing metabolism.

While research on probiotics' effectiveness in promoting weight loss is ongoing, some studies suggest that synbiotics, a combination of probiotics and prebiotics, may be more effective. According to the European Review of Medical and Pharmacological Sciences, more research is needed before probiotics can be prescribed for the prevention or treatment of obesity.
Bio X4 is available in capsule form, with each serving being one capsule. A bottle of Bio X4 contains 90 capsules, providing a one-month supply. Each capsule contains a unique blend of ingredients, including a probiotic blend of 4 billion CFUs, a digestive blend of 43mg, a weight management blend of 100mg, and a craving control blend of 166mg. The capsules are gluten-free and do not contain any common allergens, making them safe for individuals with gluten sensitivities or allergies.
Bio X4 Customer Reviews
Bio X4 is the best probiotic I've ever tried. It's helped me maintain a healthy gut and improved my overall health. I no longer suffer from digestive issues like bloating or gas, and I've noticed that my skin looks clearer and more radiant. I highly recommend Bio X4 to anyone looking for a high-quality probiotic and weight control supplement.


Danielle Fork
I've been taking Bio X4 for a few weeks now, and I've noticed a big improvement in my digestion. I used to have frequent bloating and discomfort after meals, but since taking Bio X4, those symptoms have decreased significantly. Plus, I've even lost a few pounds without changing my diet or exercise routine!
6


John Mulee
I was skeptical about trying Bio X4, but I'm so glad I did. I've struggled with my weight for years, and this supplement has been a game-changer. It's helped me control my appetite and make healthier food choices, and I've lost over 10 pounds in just a few months. Plus, I have more energy and feel great!
2
Pros & Cons
Let us now discuss the potential pros and cons of using Bio X4:
Pros:
Gluten-free, allergen-free, and lactose-free
Supports optimal digestive health
Helps improve bowel regularity
The official website includes a helpful health blog
Environmentally friendly packaging
Third-party lab tests ensure quality
Enhances immune system function
Increases energy levels
Available in package deals
Comes with a 90-day money-back guarantee

Cons:
Only available for purchase online
The supplement may be expensive for some individuals
Some users may have difficulty remembering to take the capsules three times per day
Requires consistent use to experience optimal effects

Ultimately, it is essential to consult with your healthcare provider to determine if Bio X4 is the right nutritional supplement to support your weight control goals.
Bio X4 Price & Where to Buy?
If you're interested in trying Bio X4, it's important to purchase it directly from the manufacturer to ensure authenticity and freshness. This weight-loss supplement is not yet available in stores. When looking for a vendor, it's essential to do your research. Carefully read all company policies and reviews associated with the vendor before making a purchase. The manufacturer offers single bottles for sale, and two additional multi-purchase promo offers to help users stock up and save.
Bio X4 prices on the official website include:
One bottle (30-day supply): $99
Three bottles (90-day supply): $261.36
Six bottles (180-day supply): $487.08

These prices may vary based on internet sales. Aside from the original manufacturer, prices per bottle will vary. If you aren't going to purchase from Nucific directly, make sure to read all company policies carefully and reviews associated with the vendor. Nucific offers a 90-day money-back guarantee on purchases. Additionally, a BioX4 coupon code may be available on the official website.
Bio X4: Potential Side Effects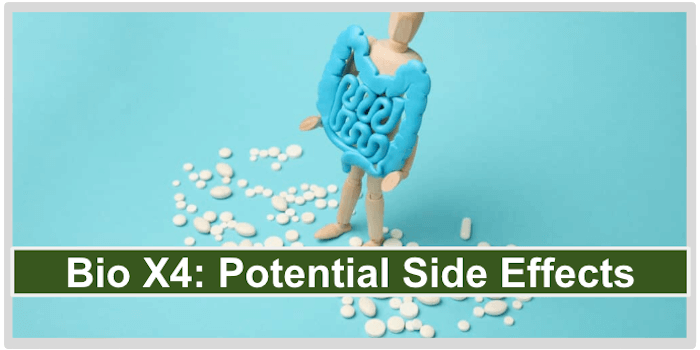 Nucific, the manufacturer of Bio X4, asserts that this supplement is safe for most adults and has no known side effects. However, it is crucial to note that individuals with specific food allergies should carefully review the nutrition label to ensure that none of the ingredients will trigger an allergic reaction. To avoid any adverse effects, always follow the recommended dosage and read the product label carefully.
Bio X4 Conclusion
In conclusion, Bio X4 appears to be a promising probiotic and weight control supplement that has received mixed reviews from users. However, many of its ingredients have a historical use for weight loss and health worldwide, and the supplement is made by a trusted brand, Nucific.
Positive user reviews highlight improvements in digestion, weight loss, and overall health, making Bio X4 a potential option for those looking to improve their gut health and achieve their weight loss goals.
While individual results may vary, Bio X4's unique blend of probiotics, digestive enzymes, and appetite suppressants may provide the support needed to help users reach their health goals. As with any supplement, it's important to carefully read all instructions and consult a healthcare professional before use.
FAQ
Does Bio X4 Facilitate Weight Loss?

Bio X4 is not marketed as a weight loss supplement, but it may contribute to weight loss. Probiotics support gut health, which is essential for losing weight.
What Claims Does Bio X4 Make?

The makers of Bio X4 purport that the combination of two main components, caralluma fimbriata and EGCG, in concert with its probiotic content, work together to accelerate weight loss, regulate appetite, manage food cravings, increase metabolism, and enhance digestion.
Is There Scientific Evidence to Back Up Bio X4's Claims?

Our researchers encountered challenges in finding scientific data to verify the efficacy of Bio X4's formula in line with its claims. While improving digestive health is a critical aspect of any weight loss product, the correlation between Bio X4 and weight loss may be tenuous.
How Can I Contact Bio X4 Customer Service?

You can contact Bio X4's customer service through email, phone, chat, and contact form. The phone number to call is 888-679-5520, while the email address to use is [email protected].
How Should I Use Bio X4?

Consume one capsule of Bio X4 before each meal. It is safe to take two capsules with every meal as long as the daily intake does not exceed six capsules.